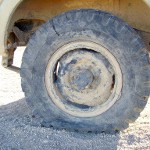 Have you ever had a flat tire when you are on your way to a job or an important meeting? The last thing you want to do when you are nicely dressed is to change a flat tire.   It's a dirty job just touching the rubber of the spare.  That's before you actually start the flat tire change.
During the first half of the last century, changing a flat tire by the side of the road was a common occurance.  With the improvement in modern tires you might not have had that adventurous experience yet.  If you decide to change the tire yourself, please refer to your owner's manual.  Some tires have lock keys and you will need to follow the directions.
You also have the option of calling a professional who is well versed on the different makes and models of cars, where the spares are (or if they are) and the most effective and safe method of changing a flat tire.  In the Cowichan Valley, your only call should be to Cowichan Towing at +1 (250) 746-7055
.
If you are going to attempt to change it yourself, check your owner's manual for the instructions and for where your spare is.  If your vehicle has a spare it could be in a couple of different places.
Some spares are in the trunk so they are easier to get to and, comparitively speaking somewhat clean.  Some spares are under the vehicle, are filthy and hard to get to. You will most likely have to crawl on the ground to get to it. The bolt can, also, be siezed from water and salt on the roads, making it almost impossible to get off with the tools at hand.   Then there are some of the new cars that don't even have a spare tire so changing a flat tire is not an option.  You may need to call someone for a tire inflation or to tow you to a tire shop to fix it.
Safety Tips for Changing a Flat Tire Yourself
To fix it yourself, follow the instructions in your owner's manual but here are some safety tips:
Pull well off the road – the line separating you on the road's shoulder from the oncoming traffic is not an invisible force field;
Be sure to have enough room around the flat tire to work safely;
Make sure you have a level, solid surface to jack up the car safely;
Turn on your four-way flashers and use flares or reflective triangles to give long range warning of a disabled car, and;
Keep the doors closed – a truck's wake can blow them suddenly wide open and damage the hinges.
If all has gone well, and you have air in your spare tire, you are ready to continue on your journey.  You will have a feeling of great accomplishment, even if your hands and clothes are a mess and you don't have time to change.
Let Someone Else Change a Flat Tire
If, however, you want to avoid the hassle and the mess of changing a flat tire yourself or if you don't have a spare tire and need the flat tire inflated, call Cowichan Towing at +1 (250) 746-7055

At Cowichan Towing, we understand how messy and inconvenient it can be to get down on your hands and knees to fix a flat tire.  It can also be quite strenuous both in lifting the tires on and off and undoing the lug nuts.  Changing a tire on the side of road or highway can make be a very vulnerable position too. That's why we offer a flat tire change and tire inflation service.
Our experienced and courteous tow truck drivers will have you back on the road safely, with no muss or fuss, in no time.  We'll dispatch a service agent to change your vehicle's flat tire to your drivable spare or reinflate your tire so you can safely reach your desitination.
We are based out of Duncan BC in the Cowichan Valley.
Let us take the stress and mess out of your flat tire change.
Call Cowichan Towing at +1 (250) 746-7055