If you've ever locked keys in your car you know how frustrating it can be.  It doesn't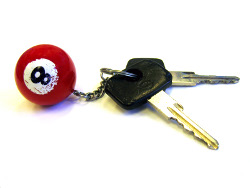 matter where it happens, whether it's Duncan or Genoa Bay, it's still an unpleasant situation.  Some car lockouts occur simply by being in a hurry and forgetting your keys inside.  Sometimes the person is busy unloading, dropped the keys on the seat for a minute and shut the door without thinking, then "poof" your locked out of your car.
It doesn't really matter whether you've lost car keys or have accidentally locked keys in a car, we understand your frustration.  Just about everybody has locked keys in their car at some time.  It can be embarrassing, maddening and extremely frustrating.
Calling a professional to come unlock a car might be your wisest choice.  Not only does it become someone else's problem to figure out but cars have changed since the good old days.  So before you try to pop the lock yourself, consider the challenges and consider calling +1 (250) 746-7055, the Cowichan Valley professionals at unlocking car doors.
Cars and car locks have changed over the years.  Most cars, these days, have some form of Remote Keyless System (RKS).  Some just have a remote keyless entry system to open the doors.  Others also have a remote keyless ignition system to start the car, so if you've lost your car keys you are still going to need some help.
Long gone are the days of using an hanger or "Slim Jim" to open your vehicle. These can potentially damage your car and void any warranties.
By calling in a professional, such as Cowichan Towing, you get a reliable, experienced unlock service. Our drivers are equipped with sets of more than 30 specialized tools to open your particular vehicle.
We are available 24 hours a day to help you.  Regardless of when you call, you will talk to a "live" dispatcher so you can explain your problem.
Emergency! If your baby is locked in the vehicle , please inform our dispatch when you call that your baby is locked in the vehicle. Dispatch will put an automatic priority on your call and we will be there to help as soon as we possibly can.
The next time an unexpected event such as losing your keys or locking your keys in your vehicle occurs, you will want a professional who is well-respected and number one in his craft. That would be a driver from Cowichan Towing Ltd.
To Unlock Your Car
Call Cowichan Towing 250-746-7055
or Click to Call – +1 (250) 746-7055