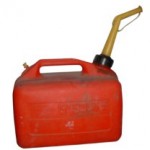 If your car has run out of gas in the Duncan area ,,.
Call Cowichan Towing at 250-746-7055
or Click to Call +1 (250) 746-7055

We will deliver enough fuel to get you on your way
Run Out of Gas Because of High Gas Prices?
The last year or two has seen a tremendous rise is the price of gasoline and diesel. The prices seem to have risen from llama size to giraffe size in the blink of an eye.  (You can send your thanks to market speculators 🙁 )  In fact prices have reached the point that motorists are starting to drive less and purchase smaller, more efficient cars.  But can high gas prices really be a reason to run out of gas?
A little known consequence of these high gas prices is that the percentage of drivers who are running out of gas is on the rise.  Some simply can't afford the high price of a full tank of gas.  They are forced to buy as much gas as they can until their next pay day.
Many other people have been trying to squeeze out a few more miles on a tank a gas.  They hope that gas prices will have gone back down by the time they need to refill.  Unfortunately, some have been stretching out that rope a little farther than they should and have been running out of gas.
Whatever the reason if you have run out gas in Duncan, Cowichan Bay, Glenora, Maple Bay, Genoa Bay, Skutz Falls, Highway 18 to Lake Cowichan, parts of Cobble Hill, parts of Crofton and Chemainus, or North Cowichan call Cowichan Towing  at +1 (250) 746-7055
.
Trying to squeeze out that last mile from a tank of gas will not save you money, it could cost you more.  You're still going to be stuck paying the price at the pump, no matter when you buy it and it doesn't look like it's coming down any time soon.  But running out of gas could cost you.  Either you're going to owe a friend a favour for delivering gas to you or you're going to end up paying for fuel delivery while you wait on the side of the road.
But wait…there's more.  Running out of gas could also cost you in expensive repairs.  There are a number of parts of the vehicle that can be damaged if you run out of fuel.  For instance, you could end up pushing dirt through the fuel line so it would need to be flushed out.  Running out of gas can also damage your fuel filter and your fuel pump.
The pump is lubricated and cooled by the fuel passing through it. If you run out of fuel you put extra wear and tear on the pump and put it at risk, possibly reducing it's life-span.
Help protect yourself against the risk of running out of gas.  Consider filling up your tank anytime your fuel indicator falls below ¼ a tank.