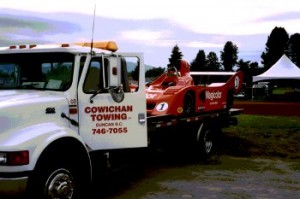 Cowichan Towing has been providing the Duncan area with safe, reliable towing and vehicle recovery services since 1989.
When your vehicle slides into a ditch or down a ravine, you need help right away.  We have specialized equipment and training to extract your vehicle from it's unintended parking spot.
Performing a vehicle recovery or extraction job that requires winches and cabling is a task that should be performed by professionals that are trained yearly like the the operators at Cowichan Towing.
There are a lot of variables that need to be looked at on each and every winching operation such as:
If a vehicle goes down a cliff or into a ditch then we are now not only dealing with the resistance of the vehicle but also the steepness of the incline. Do we need multiple lines or perhaps add snatch blocks to change the direction of the pull;
Do we have to upright the vehicle?  This has to be done carefully because we don't want to bring the vehicle up only to have it fall over the other way and create more damage to the vehicle;
We also need to pay attention to where we connect the cables on an overturned vehicle;
We, also, need to pay attention to what obstacles may be in the way and how to manoever around or over them.
All of our drivers are professionally trained and certified by BCAA and Wreckmaster.
Whether your vehicle has ended up down a ditch or ravine or suspended up on a curb or rock, call the professionals at Cowichan Towing for all your vehicle recovery and extradition problems.
Call Cowichan Towing
+1 (250) 746-7055